With the development of society, the automatic production line has become the lifeline of a modern enterprise.It not only can bring people away from heavy manual labor and bad dangerous working conditions but also greatly improve production efficiency. The advantages of using automatic line for production can be listed as follows:
1.Sufficient production
2.Advanced, stable and reliable product design and workmanship
3.Improve labor productivity and product quality
4.Improve working conditions
5.Cut production area and the production cycle
6.Cost reduction and remarkable economic benefits
So it is necessary to import automatic production line about the production of magnesium oxide board.Meantime, mgo board is widely used in hotel restaurant, night club, bank, hospital, supermarket, office, home residential and other interior partition or suspended ceiling.Also, it fully adapt to the partition wall heat insulation, sound insulation wall body structure, movable partition, special fire prevention, fire door splint, packing equipment enclosure and so on.So much demand determines the mass production of mgo board and the automatic production line rise in response to the proper time and conditions.
Mgo board production line: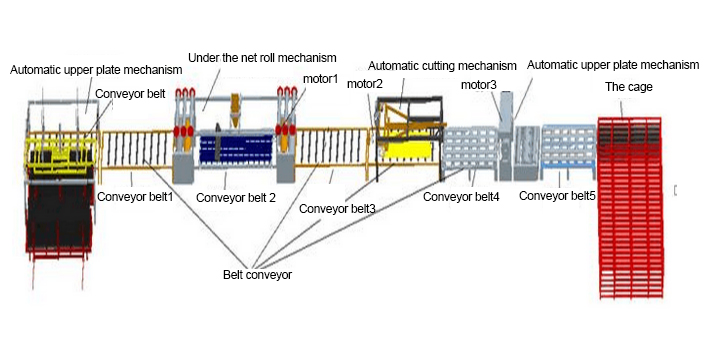 Basic parameters and requirements:
1.Mould dimension: 3000*1200*5 mm
2.Material: bakelite plate
3.Weight: 20kg / piece
4.Mould weight: 70kg / piece after charging
5.Process: upper plate
6.Production rate: 15s / piece
7.Continuous work of auto-production line
How to product Magnesium oxide board?